April 30th, 2010 // 8:59 pm @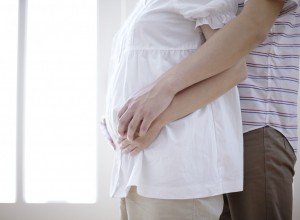 1. Understanding her moods:  If she seems to be riding an emotional roller coaster daily, do not take it personally.  Her body is dealing with major powerful hormone shifts that can make mood changes challenging for her and you.  Extra TLC is essential during this time.  Hugs, hugs, and more hugs.
2. Special touches: Surprising her with hand written love notes, cards, buying flowers, lighting candles for dinner, cooking her a special dinner,  a romantic dinner out, or perhaps walking hand in hand – these are all ways to brighten her day and keep those hormones from getting out of control.
3. Compliments score big points: Tell her how beautiful she looks!  She's definitely going to have "ugh" days and compliments will really perk her up.  We are "a flat abs" obsessed society- as her abs grow, her self-confidence can start to go too.
4. GO to those childbirth education classes:  Become involved in your childbirth preparation classes.  She needs to know she can count on your love and support at this time.   Research shows that women who have husbands actively involved in the pregnancy have easier births!
5. Talk to baby:  Before your baby is born it can hear you–really–as early as five months in the womb.
The baby likes to hear you talking to it and research shows that your little  will know who Daddy is as soon as it's born!
6. Touch her belly:  You are looking at her growing belly every day and growing more curious–you can bond with your mate and your baby through touch.  She needs reassurance  that  growing your baby and  the increasing size of her belly make her sexy and beautiful and it promotes a wonderful intimacy she will appreciate.
7. Take care of her cravings:  Chances are she's craving something because she needs its nutrients.  Satisfy her by bringing home the ice-cream.  Add some fruit or nuts in for nutrients.
8. Exercise with her: You will find that by walking, hiking,  or doing any  form of exercise together shows her the commitment you have for her healthy pregnancy.  It also provides a relaxing time to share the events of the day and discuss all the important changes coming into your life.  Sooo much healthier for everyone than watching the evening news!
9.  Reduce stress: At the end of the day, a 10-15 minute shoulder, hand or foot massage will go a long way towards helping her and you let go of the day's stress and reconnect.   She will benefit by better sleep and more energy the next day.
10. Make special plans:   Be sure to get away before the baby is born.  Whether it's a simple weekend camping trip or a cozy bed & breakfast, the change in environment and a new perspective will enhance your relationship, there won't be much time for that once you have a newborn.
For the next 10 tips feel free to contact me:
650-773-6440 or www.faykelly.com
Copyright 2010 Fay Kelly, CHT, MdH  All rights reserved.
Category : Blog