Fay Kelly was working successfully in real estate when she was suddenly taken ill one day. Two years later after seeing many doctors and specialists, she was diagnosed with CFS and Fibromyalgia that left her homebound for years. There was no known cure or medications that helped her improve or gave her relief from symptoms.
This led to 20 years of researching many aspects of mind/body medicine and her becoming a hypnotherapist in 1996. It is through the inner work and self hypnosis that she has regained her ability to be part of the world again.
Fay has studied extensively under some of the best hypnotherapists in the country as a clinical and medical hypnotherapist. She has received advanced specialized training in Weight Loss, Chronic Pain, Post Traumatic Stress Disorder, Hypnosis for Children and Teens and is a HypnoBirthing® Childbirth Educator. She has also studied and experienced many other forms of healing modalities. She incorporates Neuro-Linguistic Programming, Time Line Therapy, Guided Imagery and Regression work in her practice. Her breadth of knowledge and experience gives her the ability to develop quick and effective treatment programs unique to each client.
Working through many of her own issues over the years has given her a unique perspective and understanding in helping her clients overcome their own obstacles. Clients have found her wisdom, knowledge and experience invaluable in
transforming their lives.
Her passion and joy in life is to teach people about the innate power that lies within each of us through our inner mind and spirit. We can often accomplish that which is sometimes considered impossible.
She is a member of the American Association of Professional Hypnotherapists and The National Guild of Hypnotists.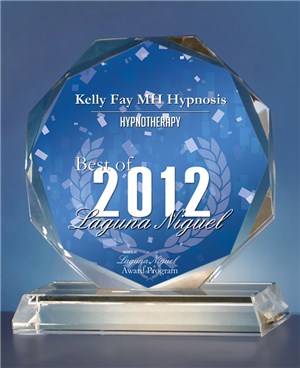 Fay Kelly was awarded the Best Hypnotherapist
in Laguna Niguel for 2012.