Hypnobirthing is a wonderfully relaxing and stress-free method of birthing, developed by Marie Mongan, an educator and master hypnotherapist. She combined self-hypnosis and other methods with the work and principles of the renowned obstetrician, Dr. Grantly Dick-Reid, with amazing results.
It is developed from a simple concept. When the mind and body are relaxed, fear and tension, which cause pain, are not present. Hypnobirthing prepares you and your partner for that day with a strong foundation of understanding how to work with your mind/body to know exactly what you need to do during your baby's birth.
This program is much more than childbirth hypnosis – it is a complete childbirth education program. A unique mind – body program for the 21st century that prepares you for that special day with a strong foundation of knowing how your body and mind work together during the birth process.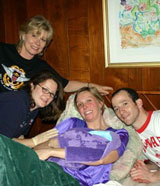 Hypnobirthing is a 'must' childbirth education program for every couple, whether you are planning on using medication at the time of birth, or not.
Let me tell you why – most women are excited yet nervous when the time comes for their baby's birth, because birth is usually perceived as a painful and stress-filled experience. Actually, the knowledge of how to give birth naturally lies within each and every woman. The female body was designed to give birth like all other mammals, and birth doesn't have to be an excruciatingly painful experience as is often depicted.
My goal is to enable you and your partner to have a relaxing, comfortable and joyful birth using techniques including guided imagery, deep breathing, massage, and self-hypnosis. Unknown by many, hypnosis is a state of relaxed, focused concentration that everyone can achieve.
With the help of these classes, you and your partner will be able to ENJOY the birth of your baby. You will be prepared both physically and emotionally for having the most comfortable and joyful birth experience possible. You deserve to know how birth was meant to be experienced.
Enrollment in this course is an investment in yourselves and your baby, and is a life changing experience!
Advantages of Hypnobirthing
You will learn everything you need to achieve a safer, easier, and much more comfortable birth. With HypnoBirthing:
you reduce many of the discomforts of the nine months of pregnancy.
the first stage of labor is shortened by several hours and often eliminates the need to push the baby to the crowning stage.
your need for chemical anesthesia is eliminated or reduced, which means less risk of negative side effects for you and your baby.
recovery after birth is very rapid and easy
there is no risk of hyperventilating from shallow breathing methods.
there are fewer interventions and complications during labor.
the Fear-Tension-Pain Cycle that creates pain, longer labor and delivery is gone.
the techniques you learn will positively benefit you in many areas of your life.
a relaxed, confident Mom and Dad, with the knowledge of how to work together to bring your baby into the world.
babies are calmer and better adjusted.
What Will I Learn In Hypnobirthing Class?
How your body is naturally designed to work in harmony with the birth process.
Relaxation, guided imagery and self-hypnosis techniques to eliminate the fear and tension that cause long labor and pain, replacing it with confidence, calm and comfort.
Specific deep breathing and massage techniques that have been scientifically proven to create an easier birth, with less drugs and complications.
How to create and control your body's own natural anesthesia.
The importance of bonding with your unborn baby and how it affects your birth, and your baby's emotional health and well being.
How to release fears and concerns from the past or present about giving birth and parenting that can interfere with birth.
Natural techniques for the induction of labor, or to re-stimulate a "stalled" labor.
The importance of creating a birthing environment that is calm, serene, and joyful rather than tense and stressful.
Gentle birthing techniques that allow you to breathe your baby into the world instead of hard physical pushing that can cause pelvic floor dysfunction and maternal exhaustion.
How your core beliefs and experiences affect your labor.
How self hypnosis works.
How to create an effective birth plan that improves your outcome.
Why women in other cultures are able to birth almost entirely free of discomfort.

Introduction
Hypnobirthing
Rationale for Comfortable Birth
How the Uterus Works
What's Wrong with Labor?

How Fear Affects Labor
Origin of Pain Concept

Hypnosis and Deep Relaxation/Creating Positive Birth Outcomes
Hypnobirthing Stories DVD – 1 and 2

Hypnobirthing Stories DVD – 3 and 4
Pre-birth Parenting Techniques
DVD- What Babies Want
Relaxation and Visualization for Birthing
Rapid and Instant Relaxation Techniques
Breathing Techniques for Labor and Birthing
Progressive, Instant, and Deepening Techniques
Hypnotic Relaxation and Visualizations

Looking at Your Estimated Due Date
Making Hospital, Home or Birthing Center Plans
Preparing the Body for Birthing
Light Touch Birthing Massage
Hypnobirthing Stories DVD- 5 and 6
Preparing your Birth Preferences Sheets
When Baby is Ready
Avoiding Artificial Induction of Labor
Your Body Working for You And with You
Releasing Negative Emotions, Fears and Limiting Thoughts

Hypnobirthing Stories DVD- 7 and 8
Onset of Labor–Thinning and Opening Phase
Arriving At The Hospital
As Labor Moves Along
Birth Companion's Role
If Labor Rests or Slows
Positions for Labor and Birthing
Protecting the Natural Birthing Experience
As Birthing Advances–Nearing Completion
Birth Rehearsal Imagery

Hypnobirthing DVD- Birth As We Know It
Mother Nears Completion–Thinning and Opening Phase Ends
Birth Explained Simply
Breathing Baby Down
Birth of the Placenta
Family Bonding
Forest Fantasy Metaphor

Hypnobirthing Class Outline:

UNIT #1: Building A Positive Expectancy:

UNIT #2: Falling in Love with Your Baby/Preparing Mind & Body

UNIT #3: Getting Ready to Welcome your Baby

UNIT #4: Overview of Childbirth–A Labor of Love

UNIT# 5: Birthing–Breathing Love, Bringing Life

QUESTIONS & ANSWERS

When is the best time to enroll in Hypnobirthing classes?
During your second trimester is a good time so you have more time to practice. If you are having any problems with your pregnancy, or are stressed out, please (or for any other reason) consider an earlier enrollment. For couples who expect their babies soon, I can also do a condensed course.

Do I need to take any other childbirth preparation programs?
You can take another class is you like however, Hypnobirthing is a complete program covering all aspects of birth: nutrition, birth and labor positions, preparing your body for birth etc. You will learn to focus inward and work with your body rather than disassociating from the experience. Other programs can sometimes comflict with the concepts you will learn and practice from Hypnobirthing You will want to take breastfeeding a childcare classes and take a hospital tour.

How will by husband/partner be involved?
Birth partners LOVE this program. They really feel like they are an important part of the birth as they should be. They learn more tools and develop a closer connection to help you in the best way possible during birth. They feel more calm, confident, and in control than have been reported with other programs.

What will I learn in my Hypnobirthing classes?
I will teach you how to quickly relax, which is critical to a positive birth experience. You will learn how to trust the process of labor and birth-it is a natural event and it is easier to go through when you have that knowledge. You will also learn the importance of feeling safe, secure and supported. You will learn the effects of your thoughts, feelings and emotions and how these things impact your pregnancy and the birth of your child.

Hypnobirthing Testimonials

---

"My labor was considered a 'lazy walk in the garden' by the midwife (it was intense but pain free). I was at 6 cm. early morning and calmly eating breakfast. I did not tear or bruise and the baby was born in my bed/ at home and the cord was not cut until well past an hour. He literally SWAM to meet me when placed on my belly. Thanks for your blessed presence before his birth."
R.S, Mt. View

"We are very happy with the way L&D went, Hypnobirthing definitely helped me relax, and especially having an OP baby. I was even on the phone most the day making reservation for my parents not knowing I was in labor!"
Leslie – Palo Alto

"As a former obstetrical nurse in the early 1970s, I deeply believed that the birthing experience did not have to be filled with fear and extreme pain. How shocked I was to return thirty years later, when my daughter was pregnant, to learn that epidurals were the recommended choice of delivery.

The Hypnobirthing tools of visualization, relaxation, and breathing tools (especially during the third stage) seemed to take the Lamaze Method I had known and used to deliver my daughter a huge step forward. I was thrilled to see how my daughter and her husband had the most miraculous experience with the birth of their son. I want to thank you for your contribution of teaching the method of Hypnobirthing with such enthusiasm and love."
A.L. San Francisco

"We arrived at the hospital at around 9:05 a.m., got into the delivery room at 9:18 a.m., and R was born at 9:31 a.m.! After what everyone (not associated with Hypnobirthing) had told me throughout the pregnancy, I expected much worse. I felt sensations and certainly felt pressure, but with R's encouraging words and the HypnoBirthing breathing methods, it was completely manageable. My surges never lasted longer than 30 seconds! What an absolutely amazing experience for both of us. Thank you so very much, Fay! We are true believers of the HypnoBirthing method! The only thing we'd change (per the nurses' request) – we'd probably like to get to the hospital just a touch earlier!" Chandra – San Francisco

Positive Books for Pregnancy & Birth

Hypnobirthing The Mongan Method, Marie Mongan
The Birth Book, Dr. William Sears
Ina May's Guide to Childbirth,  Ina May Gaskin
Prenatal Parenting,  Dr. Frederick Wirth
Mother's Intention: How Belief Shapes Birth,  Kim Wildner
The Thinking Woman's Guide to a Better Birth, Henci Goer
Childbirth Without Fear,  Dr. Grantley Dick-Read


http://www.mother-care.ca/breech

http://www.westonaprice.org/ (Nutrition)

http://www.blueribbonbaby.org/ (Nutrition)

http://www.mercola.com/ (Nutrition)

http://www.spinningbabies.com/ (Positioning of baby)

http://acupuncture.rhizome.net.nz/default.aspx (Acupressure & Labor Induction)


http://www.birthpsychology.com/

http://www.windsorpeak.com/babybargains/default.html

http://childbirthconnection.org/

http://www.who.int/reproductive-health/

http://www.visibleproductions.com/showcase/medlegal/medlegal_3.html (Baby Video)

http://www.askdrsears.com/ (Pediatrician)

http://www.drjaygordon.com/development/index.asp

http://www.attachmentparenting.org/

http://www.motherfriendly.org/

http://www.sarahjbuckley.com/index.html (Pregnancy Health)